'90 Day Fiancé' Season Finale: All's Well That Ends Well (RECAP)
[Warning: The below contains MAJOR spoilers for Season 8, Episode 17 of 90 Day Fiancé]. 
It's the end of the road for 90 Day Fiancé's wild eighth season on TLC. The last of the couples tied the knot, while Stephanie received one final surprise. Plus, Yara and Jovi have a special hour dedicated to their journey to parenthood. Let's dive in one more time.
See Also
A trio of pandemic weddings go off without a hitch, while one couple still grapples over whether tying the knot is overrated.
Yara & Jovi: Can't Help Falling In Love
After two years together, Yara and Jovi still are experiencing cold feet. Jovi's mother Gwen even acknowledges that her son is a "mama's boy," but that it's time for him to be a husband to Yara.
The couple meets up to travel to the Elvis Presley-themed wedding chapel in Las Vegas, Nevada. Yara is still worried that Jovi might not be the perfect partner, but no matter what, she wants him to be her husband. They both say "I do" in front of Jovi's friends and family before heading to a large reception. Jovi admits that their marriage will be "work," but that he's excited to call Yara his wife — and mother of his child!
Mike & Natalie: "Two Countries, One Love"…and Three Chances
Despite their tumultuous road to the altar, Natalie and Mike prepare for another wedding on the final day of Natalie's visa. This time, she can only hope that Mike doesn't cancel at the last minute again. "This situation is unusual," she sums up. "Last night, Michael decided that he wanted to marry me on my 90th day…if it was his way, he would just stay in the relationship with me for a longer period without getting married."
Natalie's close friends are all back in Ukraine, but that doesn't stop her from still having the unexpected wedding of her dreams. "We are out of time officially," Natalie states, before saying her vows to Mike. "I'm grateful to him that he gave us a chance…I feel like I made the right choice."
Mike smiles at the camera, noting that he's ready for their future as a married couple. The happy couple is officially newlyweds!
Andrew & Amira: Better Broken Up
Back in Roseville, California, a newly single Andrew meets with his mother and sister. It's clear where Andrew gets his level of empathy from. "How do we even know that she had an anxiety attack? No one was there," his mom Lori says before flat out admitting that she doesn't believe Amira.
Andrew's sister even encourages Andrew to be angry with Amira. It doesn't take much for Andrew to let out his rage. "It did feel like a breakup because there was no effort on her part to do anything to fix it," Andrew complains. "Ultimately I should have seen the signs."
Meanwhile, Amira is back home and safe in France. "I did everything in my power to make it work, and in return, I'm just put in tough situations. Why?" Amira says, while tearing up. "He pressured me about committing to having kids right away over and over again. That's not love here."
Amira tells the camera that she's in a process of "rebuilding" herself, including returning to school to earn her Bachelor's degree. "I'm going to try to love myself again, and I don't want to talk to Andrew ever again. I am not willing to let him control me ever again," she concludes.
See Also
A total of seven couples will return for the spinoff series, which premieres April 25.
Stephanie & Harris: Scam Central
Stephanie returns home to Michigan after her tumultuous trip to Belize. The medspa owner burns ex-boyfriend Ryan's K-1 visa application, and throws it into a pile of dried leaves. But that's not the only fire Stephanie is starting: she's ready to marry new beau Harris. Yet Stephanie wants to be sure that Harris is fully done with the mother of his children, Emma. Stephanie FaceTimes both Harris and Emma to ask what the status of their relationship is. Emma promises that Harris is just her partner in parenting, and that their romance is over for good.
An overjoyed Stephanie gushes that Harris is her fated fiancé. "I think we can be my happily ever after," she coos after taping (!) his photo to a digital refrigerator screen, no doubt ruining the surface.
Cut to Harris, Emma, and their children at the beach in Belize. A producer asks Harris what he's hoping to gain from his relationship with Stephanie, and the answers are shocking. "I was always thinking that I can be the one to be with Stephanie so I can move from here and go over to the United States," Harris starts. "I have a lot of big dreams. The first thing is my family, my kids, my mom, my dad. I can make a better life for them, and of course my baby mother Emma…I love her so much and I will always take care of her."
But Harris doesn't stop there: "I never ever in my life found someone who can give me free money. So I feel special that I know someone like Stephanie," Harris continues. "There's only one time in history where you get a good break like that." And then he KISSES Emma! So were they together all along? Will Stephanie find out before it's too late?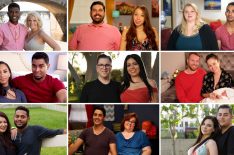 See Also
Ahead of the Season 8 finale, let's catch up with the TLC show's other stars.
More Yara & Jovi: …and Baby Makes Three!
The season finale wraps up with a special segment dedicated to Yara and Jovi welcoming their newborn. After their nuptials, Jovi had to leave for work, but his usual four-week schedule was thrown off due to COVID-19 travel restrictions, and he's instead gone for close to four months. Yara moves in with mother-in-law Gwen during her pregnancy to help prepare for the baby.
Later on, Jovi finally returns to New Orleans, Louisiana, and it's back to the same old Jovi partying ways. First, he insults Gwen's baby-related birthday present, and then he complains that Yara's cake for him was too "sandy." Plus, Jovi parties with his pals at the bar while his eight-month pregnant wife stays up waiting for him. Yet Jovi is forced into dad mode after Yara goes into labor early.
Yara suffers for hours before giving birth to daughter Mylah. "It was just a special moment looking down at her knowing this is my child," Jovi proudly tells the camera. He gives Yara her well-deserved "push present," but Yara is still shocked at the whirlwind of their relationship. "Everything was worth it," Jovi assures. The happy family close out this season, and we can't wait for the Tell All next week!
90 Day Fiancé, Sundays, 8/7c, TLC